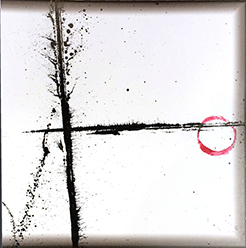 One of the 300 unique album covers,
each made together by T.U. and S.K.


Side 1 – First Approach (17:53)
Side 2 – Second Approach (15:56)
Side 3 – Third Approach (13:00)
Side 4 – Fourth Approach (17:42)

Texts by Torben Ulrich
Compositions by Søren Kjærgaard

Personnel
Torben Ulrich: Voice, ball bearings, marble rolls, hose horn, plunger, bag of tricks, etc.
Søren Kjærgaard: Piano, prepared piano, organ, keyboards, digital processing, percussion, etc.
Messerkvartetten: Andrea Rebekka Alsted, violin; John Chan; violin; Katarzyna Bugala, viola; Therese Åstrand Radev, cello
Reviews, interviews, articles:
Where to order:
"Meridiana: Lines Toward A Non-local Alchemy" has its origins in the spring of 2011 at the Meridian Gallery in San Francisco, during Søren Kjærgaard's artist residency there. For more than three years, T.U. and Søren worked on the project, which looks into the interplay of lines — sonically, textually and graphically — inspired by the different meanings and uses of meridians in Eastern (Taoist-alchemical) and Western (geo-navigational) traditions.

For six days in June 2014, Søren and T.U. went into New, Improved Recording in Oakland, Calif., under the auspices of The Norman Conquest to record for the album. Søren brought with him recent recordings in Copenhagen of his compositions for string quartet.

The album was released on Escho Oct. 19, 2014 as 300 limited-edition double LPs, each with unique artwork by Søren and T.U. and also including a booklet of liner notes and texts.

A tour of Denmark followed in October-November 2015.

Excerpt from the liner notes:

"Still, here we are, inside two LPs, with what we have called four approaches, four sides of vinyl, four voices, a string quartet, four times three, the twelve meridians, sometimes called postnatal or acquired or tidal; four times two, the eight meridians named extraordinary or congenital; the two of us, in what David Bohm has called the explicate and implicate orders; … Four approaches, four sides of vinyl.

Approaches will refer to process, play, passage, part, piece. Compositionally, musically, maybe a little different from the traditional word "movement" pointing to a tempo, andante, largo, presto, since we're not doing symphony. Maybe it's closer to a suite in the sense that it was conceived as a sequence, first side before the third (on our previous recordings the order would not have been that orderly). The sides are definitely related, linked, the lines run through, but more in the sense of four possibilities out of a manifold: when we went into the studio, we had no idea, no grip on, what we would end up with (if anything)."

From Escho:
Torben Ulrich has for almost 70 years changed our view on tennis, painting, music and poetry, while Søren Kjærgaard in the new millennium has worked himself further and further into the minefield of jazz and modern composition as a pianist, composer and improvisor. On their mutual piece Meridiana: Lines Toward A Non-local Alchemy they investigate a spectrum of sound and voice, the interplay between virtual possibilities and the more manifest concrete, our everyday living. Repetition and beauty are always present in the long dark halls of a musical cortex that here is the platform for a drama that seems as old as the human frailty.