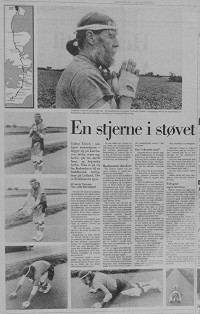 Jyllands-Posten Morgenavisen, Oct. 4, 1987
From July to October of 1987, T.U. went from the
Center for Tibetan Buddhism on Svanemøllevej
north of Copenhagen to Karma Chö Phel Ling,
a Buddhist retreat center near Rødby on the Danish
island of Lolland, covering the distance of about 150 kilometers (93 miles) with his body – extending the body
on the ground, getting up, taking three steps forward to cover the length of the body, making another prostration,
and so on.

In Tibet this ritual is called "klangchag", and it is a common pilgrimage tradition, moving one body-length
at a time towards a stupa. The idea in 1987 was to try to take this tradition to Danish ground, going from the place where T.U. first met Tenga Rinpoche, his teacher, to the stupa Tenga Rinpoche had built at the retreat center.

Two articles from during and after that trip:

Information, July 17, 1987,
by Poul Albret (English translation).
Information, Nov. 6, 1987,
by Poul Albret
(English translation).